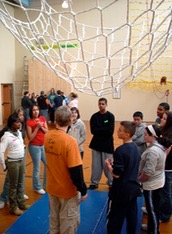 The Adventure Center is our winter space for team building and leadership programs. It was built to reach the young and the young at heart of the community surrounding Syracuse during the winter when our ropes course is shut down. At the Adventure Center "Adventure Training" is used to make a positive difference in people's lives and the groups they work and play with.
The Adventure Center is inside where it is always warm and cozy. We run fun and engaging programs using ground based games and activities as well as our portable low elements. 
The Adventure Center is a non-profit center located on Wetzel Road in Liverpool, NY.  If you are part of a youth oriented organization like the scouts, church youth group, or sports team let us know and we can help you get funding to pay for all or part of our program. 
Directions: From the village of Liverpool, NY drive north on Morgan Rd. Turn Turn Right on Wetzel Road. In a half mile you will turn left into the Walk of Faith Church parking lot. Enter by the main doors on the right side of the building.